Jean Michel Jarre in concert
2009-05-14 18:44
(Last modified: 2009-05-14 18:44:00)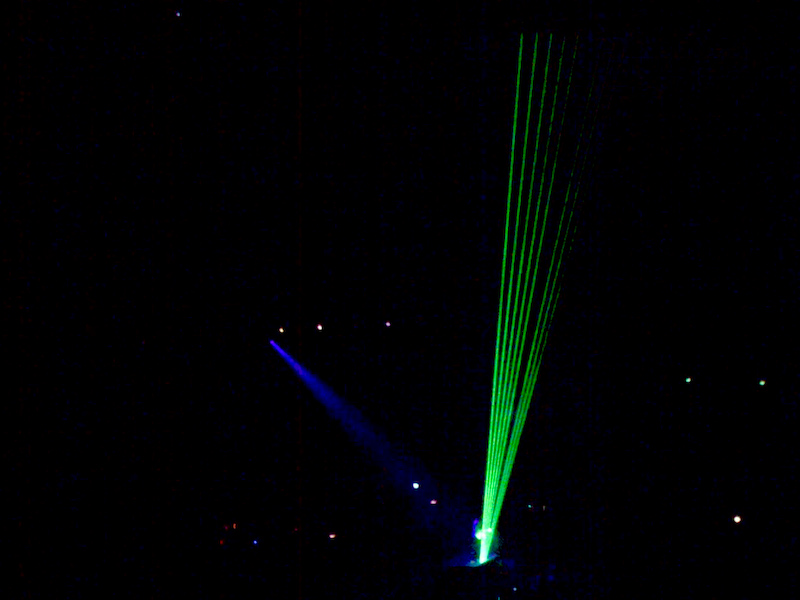 Yesterday I went to Jean Michel Jarre's world tour making a stop in Oslo. I hadn't seen Jarre live for some 15 years, so I was excited to see what he would bring to the country this time around.
All in all, the concert was pretty good. He played a lot of golden oldies, as well as a bit of new stuff I didn't immediately recognize. He mostly focused on the Oxygene series, but also played some other well known stuff like Rendez-Vous and Magnetic Fields.
His stage show was also quite entertaining, with awesome white lasers and strange LED-displays with alien heads looking ominously at the audience. Compared to the stage show 15 years ago, this current one wins, hands down.
So far it seems this concert is a perfect experience and that there was nothing wrong with it, but there was.
At times Jarre played his pieces… weirdly. A few of the weirdnesses might be artistic creativity, but most of them sounded like he was in error and had forgotten what the next note was. A few of them even sounded like software errors causing the samples to be stuck in a loop. Jarre is 60 years old. Maybe his age is starting to show?
The stage direction could also have used more lasers (you can never have enough lasers), and some in-door pyrotechnics would have been very welcome. In his defense, he did use his laser harp (seen in the main photo of this blog entry), which is almost a valid excuse to not have any stuff on the stage at all.
All in all I was very happy with the concert, with the material he performed, how it all looked, and I'm extremely happy he did two encores. On a scale from 1 to 10, with 10 being the best, I'm giving this concert a 7.
It could have been much better without minor glitches and a better stage show, but that shouldn't hinder you from seeing this concert if you get the chance.
The photos are taken with my Nokia E71, and are therefore not of good quality, but they suit their purpose. For photos taken with a mobile phone I'm actually quite happy with the results.